Note: To use these scripts, you'll need to install Tampermonkey for Chrome, Firefox or Edge.
This guide is for DH2 fixed's users having issues with it, since the original author (zorbing) has been inactive for a long time. The first fix is also applied to Ted's market script when broken too.
Please use this Greasyfork script version. You can disable the "old" DH2 fixed and use this instead, without manually updating when an update is imminent.
https://greasyfork.org/en/scripts/369532-dh2-fixed-version-3
The above link is the most recently updated link (Version 1.0.15, 16 December 2018). The script should auto-update once installed.
Ted's market FIXED
Edit
To get the Ted's market FIXED script, please refer to next link:
https://greasyfork.org/en/scripts/39516-ted-s-market-ui-fixed
Install the script from the above link.
The updates are only an expansion/bugfix to the original script. It is not in active development.
VERSION 1.474 (28 June 2018)
Gimrin's ImgGlue
Edit
This script solves the issue that if you drag&drop any of the images in DH2, it navigates away from the game to only display said image. It removes the ability to drag images on DH2 completely.
ImgGlue (contact me ingame or on the Greasyfork site, if there are any issues)
My DH2 Fixed just doesn't work at all
Edit
In Tampermonkey, go to Dashboard, and navigate to the script. In the Editor tab, find the line // @include or // @match and change or add these URLs:

// @include      *.diamondhunt.co/*

// @match        https://www.diamondhunt.co

This is necessary(?) because the game has changed the URL of the main page (without /game.php) and updated the https protocol.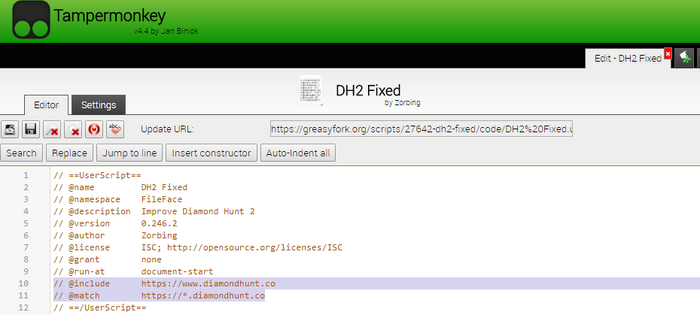 Community content is available under
CC-BY-SA
unless otherwise noted.